New Way To Buy A Motorcycle Without A Loan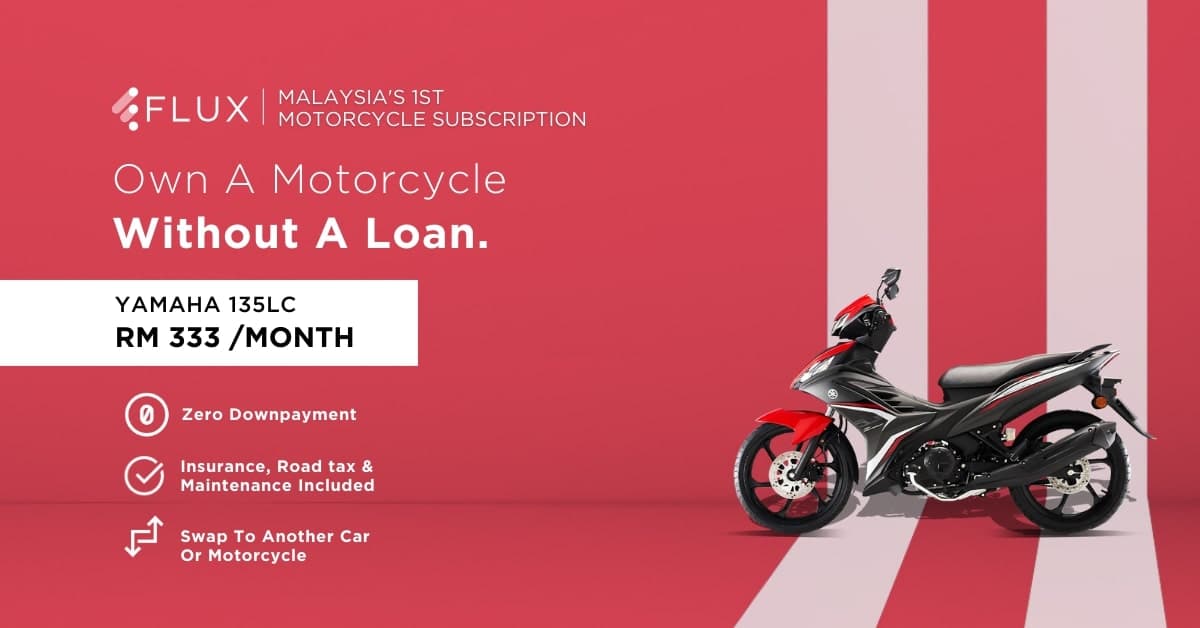 You might have heard about our big news in the recent weeks. If not, here are the great news! We have recently launched Motorcycle Subscriptions, Malaysia's and Asia's first subscription of its kind. The subscription service allows riders an easy way to own a motorcycle in Malaysia and comes with the perks and bundled services FLUX All-Inclusive Car Subscribers know and love.

In this blog post, we will take you through this latest innovative service in detail and answer some of the most frequently asked questions. Let's jump right in!
What is a FLUX Motorcycle Subscription?
FLUX Motorcycle Subscription is an easy, transparent, and affordable way to have and own a motorcycle. 
With this subscription program, subscribers can enjoy the perks of having a motorcycle without the commitment, financial burdens, and risks that usually come with a loan and can buy the motorcycle outright at the end of the subscription for a low price. We have designed the product to be flexible and affordable, with no downpayment required, multiple subscription plans and mileage packages that will suit different needs.
At this time, members can subscribe to a range of popular new and used motorcycles starting from only RM355 /month, whether petrol-powered or electric, from popular brands and models such as the practical Honda Wave 125i, the racey Yamaha Y15ZR, to the classic Vespa LVX150, and Blueshark R1 and R1 Lite, to name a few. 

We will continue to add more options for used and new motorcycles, so watch this space!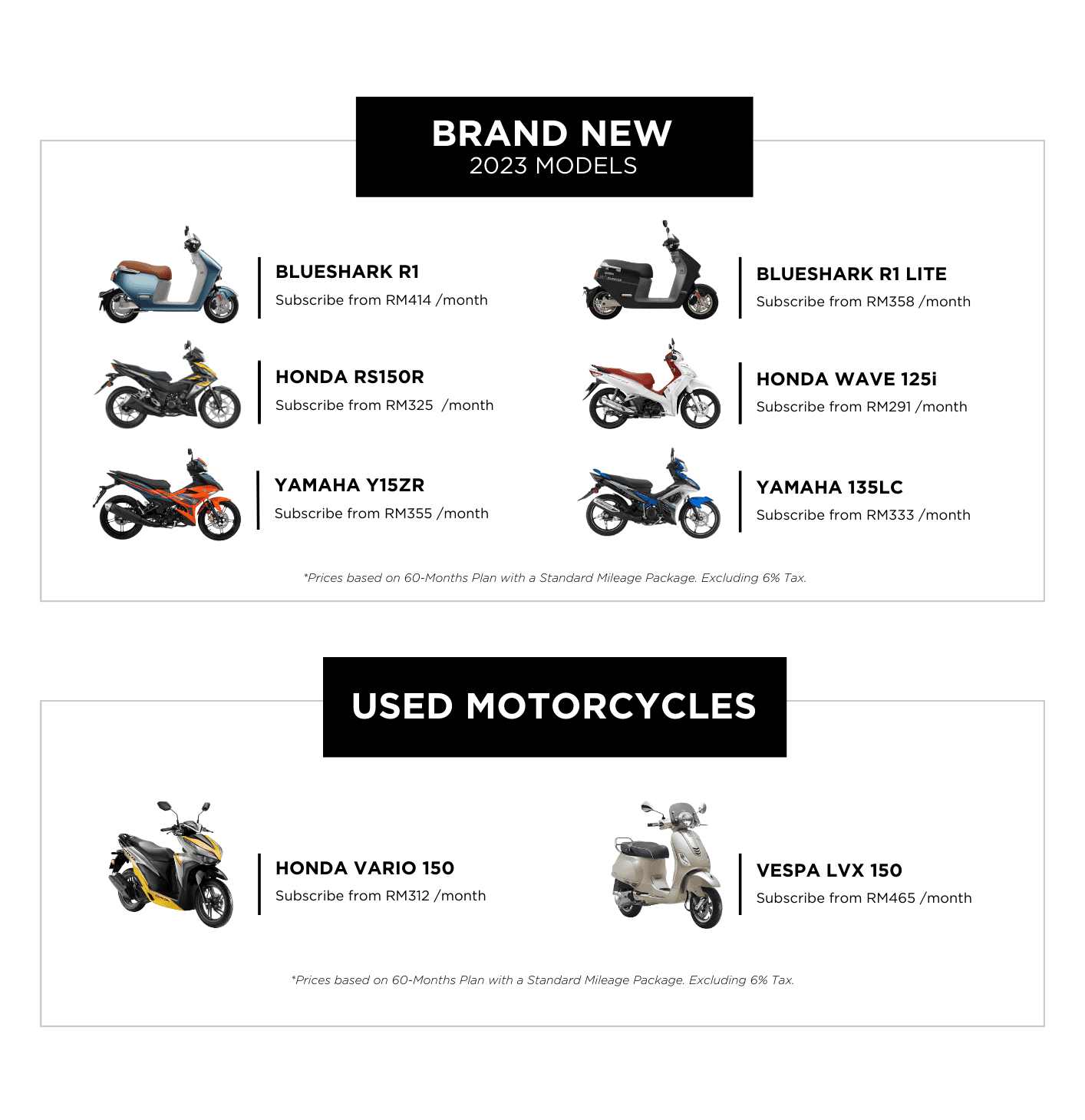 Why should I subscribe instead of buying?
When buying a motorcycle, the most common way of getting one is buying it in full with cash or through a loan-kedai. These are loans that a consumer can get directly from a motorcycle shop. However, this method can be risky as these loans are unregulated and often expensive due to the high downpayment and high-interest costs.
In contrast, with FLUX, you can bypass all the risks and own a motorcycle without a loan or fork up significant upfront cash.
Affordable and transparent path to ownership: FLUX provides a clear pricing structure, allowing subscribers to choose from flexible plans tailored to their needs and budget. Everything is displayed clearly upfront. There's no downpayment, and subscribers only need to pay a low monthly fee. By eliminating the need for large upfront payments and costly loans, FLUX makes buying a motorcycle accessible and affordable.
Bundled services & expenses: With FLUX, you can own a motorcycle without the financial burdens of upkeep. All FLUX subscription plans come with comprehensive insurance, maintenance, repairs, and selective wear & tear (except for tyres and brake pads). We even include 24/7 Roadside Assistance and Emergency Services for complete peace of mind. The bundle services eliminate surprise expenses, making monthly planning easier. 
Flexible Plans: you can choose from 24-month, 36-month, or 60-month plans across three mileage packages ranging between 2000kms to unlimited (with no cap on mileage used) per month, depending on your needs.
Swaps On Demand: FLUX is the only subscription service that lets you swap to a motorcycle within the fleet throughout your subscription duration, whether switching from a Yamaha or a Honda or from petrol-powered to electric. You can even swap to a car. Now that's what we call flexibility.
Can I buy the motorcycle that I've subscribed to?
Yes, you can!
At the end of the subscription, you can either return the motorcycle to FLUX or purchase and own it outright. You only need to pay a one-time sum (the guaranteed future value) to transfer ownership to your name. It's that easy!
What about electric motorcycles?
If you want to switch to electric but want to know if it's right for you, FLUX allows you to test 'own' the Blueshark R1 for one week for only RM200. 

The subscription works like our long-term motorcycle subscription, with everything included, making it a breeze to try the Blueshark R1.
How can I subscribe?
It's quick and easy and only takes a few steps.
Simply create an account on our website.
Select the motorcycle, subscription duration, and mileage package you want, and then complete the booking process online. 
Once the reservation is approved, we will deliver your new motorcycle to your doorstep within seven business days.
Subscribe and own your motorcycle without a loan.
Embrace the new & affordable way to own a motorcycle, and experience the freedom of a FLUX Motorcycle Subscription today!
Follow the steps above to take home your new ride, and if you still have any questions, check out our Helpdesk or let us know at support@driveflux.com.